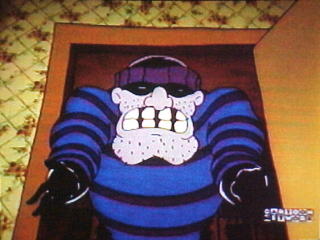 Basil made his first aperince in family bussines when he tried to rob the bagges house after hitting courage with a fish muriel and eustace came down to see what had happended than basil told courage to tie up eustace and muriel and said the park rangers were after him. Than Basil came back and started caling courage his cousin nigel and muriel his aunt twinkle toes and uncle twinkle toes
Basils best friend was his cousin nigel the two were great friends however basil later became a burglar later basil did what he really wanted to do give eills electric therapy.
apperance
Edit
basil talks in a irsh acent and uses a fish as a wepon
basil hey nigel why ya tieing uncle twinkle toes and aunt twinkle toes up
basil make one wrong move and the old ladey gets da fish?